Conventional media such as bark and moss compact and deteriorate over time - especially in the heat of summer. Decaying potting materials trap impurities and restrict air flow at the roots. This alters the chemistry and blocks many nutrients from getting to the plant. Your plant is not only robbed from getting what it needs - the unused nutrients turn to salt and eventually become harmful to the roots.
If your planting media is old, your fertilizer could actually be harmng your plants! The only solution is replacing the media.
In our system, LECA pebbles replace all other media. LECA pebbles are a sterile ceramic that will never compact or decompose, promoting an even flow of air and water over the roots. You'll never get "exhausted media" with LECA, eliminating the "trapped nutrients syndrome".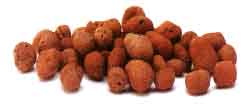 Removing impurities from the system is also easy. Simply take your plant to the sink every couple of months (or use the garden hose if outdoors) and leach the pebbles thoroughly. The relatively smooth outer shell on the pebbles allows any foreign matter to wash away. This is impossible with bark or moss.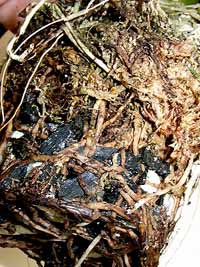 Decaying roots trap impurities and block air flow, making balanced nutrition impossible.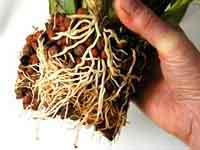 Healthy roots growing in LECA